... It sure is!!

Firstly, though, for those of you who have been wondering if I'm still alive . . . apologies for the longer-than-anticipated silence! The initial plan was to take a couple of days break from the social media world and take care of some things that had been piling up over some weeks, or months, to be honest. Those few days ended up becoming 5 weeks, and I found myself crawling into that musical black hole that creative souls sometimes disappear into from time to time… To top that off, the post-op recovery time also took a wrong turn, which left me with barely any energy or motivation whatsoever. Everything went on standby for a while, hence the long silence. When I finally logged onto the social media platforms a couple of days ago and saw all the lovely messages people had left me, I knew I had to come back! Huge hugs to all those people for that… it was exactly what I needed! Thank you <3

The music only took a temporary back seat, so don't worry, new music is in the making. As soon as I have a definite date for the next release, I'll let you know.

Now onto some much happier news!: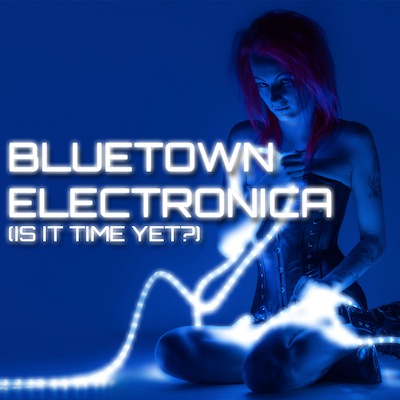 The eagerly anticipated "Bluetown Electronica (Is It Time Yet?)" compilation album was officially released today on iTunes, Spotify and Deezer. It will also be released on a myriad of other online platforms in the next days, via Sub Culture Records. I was so unbelievably stoked when I was asked to be a part of it and my gratitude goes to DJs Paul and Jason from Bluetown Electronica as well as Per Aksel from Sub Culture Records in Norway. The album features 25 brilliant tracks by electro artists that have heavily received airplay on Sheppey FM's Bluetown Electronica radio show every Sunday evening from 6pm-9pm (UK time). "Factory Reset" is track 9.

Artists featured include Tenek, Factory Acts, Eurasianeyes, Naked Lunch, Paul Humphries, Pinklogik, In This Mode, Rossetti's Compass, Johnny Normal, KirA, EmT, The Flood, Jonteknik, Thesubterranean, Tingle In The Netherlands, Among The Echoes and many other brilliant electronic artists... including myself!

Go grab it from your favorite digital retailer :)

Stay tuned as more links will be announced in the Shop as they happen!
Love and decibels,